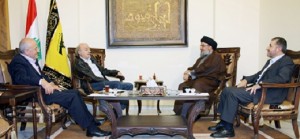 Hezbollah chief Sayyed Hassan Nasrallah, met with Progressive Socialist Party (PSP) leader, MP Walid Jumblatt in the presence of Minister of Public Works and Transport, Ghazi Aridi and Wafik Safa who is in charge of Hezbollah security and coordination between both parties.
Neither the time , nor the location of their meeting was disclosed
According to a statement issued by Hezbollah , the meeting covered discussions of regional and local issues: Palestine and the completion of prisoners exchange with Israeli , the situation in Syria, the Special Tribunal for Lebanon (STL), the economic and social situation.
They also discussed the bilateral relationship between the two parties, expressing their satisfaction about its development and their desire to raise the level of coordination and communication at all levels in order to face the next phase's challenges, in an atmosphere of honesty, dedication and transparency similar to that in which the above mentioned subjects were discussed.
Nothing in the statement was mentioned about the outrage of the Druze community over Hezbollah's takeover of the strategic 888 hill near Aley and its occupation of Toumat Niha hills in the Chouf region.
Nothing was also mentioned about Jumblatt's stances over STL and the situation in Syria which conflict with Hezbollah's stances