Siniora calls for punishing the killers of the Copts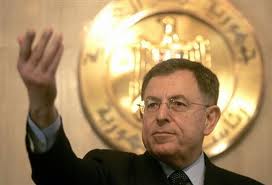 Former Lebanese Prime Minister and current Future bloc leader MP Fouad Siniora visited the headquarters of the Christian Coptic Church in Sin al-Fil on Tuesday and offered his condolences over the violent clashes that killed a number of Egyptian Copts Sunday in Cairo.
Siniora called for uncovering the perpetrators of the violence punishing them, according to a statement issued his office.
On Sunday, 25 people were killed and more than 300 injured in clashes after a demonstration by Coptic Christians was attacked by the army and thugs, sparking furious condemnation of the leadership's handling of the transition from Hosni Mubarak's rule.