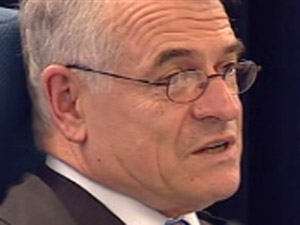 The president of the UN Special Tribunal for Lebanon, Antonio Cassese, has resigned his post for health reasons, a tribunal statement said Monday.
The tribunal was set by the United Nations to try suspects in the 2005 assassination of former Lebanese premier Rafik Hariri, who was killed in a car bombing widely blamed on Hezbollah.
The Lebanese Shiite movement has denied any involvement in the assassination but four of its members were indicted earlier this year.
David Baragwanath has been unanimously elected president of the tribunal and presiding judge of its Appeals Chamber, after being proposed by tribunal Vice-President Ralph Riachy and Cassese himself.
Cassese would continue to serve as a judge on the tribunal's Appeals Chamber, a statement published on the tribunal's website said.
The tribunal president's tasks include oversight of its functioning and administration of justice, as well as representing the tribunal in its relations with states, the United Nations and other entities.