Geagea slams Syrian army's violations of Lebanon sovereignty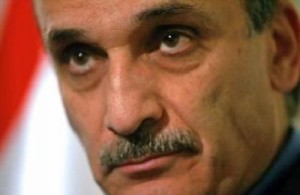 In an interview with Al-Jumhuriya newspaper published on Monday Lebanese Forces leader Samir Geagea blasted the Syrian army's violations of Lebanese territories calling it a "flagrant violation" of Lebanon's sovereignty.
Geagea also slammed the cabinet for not issuing any statement on the Syrian "violation," calling their silence "national treason".
"The cabinet's position is very [bad]. It is as if the cabinet has nothing to do with Lebanon," he added.
Syrian army tanks crossed the Lebanese border near the town of Arsal and fired several gunshots on Lebanese territory and on Thursday Syrian troops shot and killed a farmer near Aarsal.
Asked about Lebanon's abstention during the vote on a United Nations resolution against the Syrian regime's brutal crackdown against the pro-democracy protesters , the LF leader said: "I had hoped we had a cabinet that takes a position that suits our convictions and aspirations."
Nine countries voted last week in favor of the resolution which had called for "targeted measures" if Syrian President Bashar al-Assad pursues his clampdown on anti-regime protests. South Africa, India, Brazil and Lebanon abstained from voting, while China and Russia vetoed the resolution.
According to the UN, the Syrian regime's crackdown on protests has killed more than 2,900 people. Thousands have fled to Lebanon.
Commenting on the reports that some Syrian refugees in Lebanon have been detained by authorities , he said
"Lebanon's role on the level of freedom must be taken into consideration. We do not want to interfere in what is happening in Syria, but the Lebanese government has to respect international rules on how to deal with refugees and must not allow their detention,"
Commenting on the Special Tribunal for Lebanon (STL), the LF leader said the UN-backed tribunal is "characterized by full transparency," and statements that it is politicized are "baseless."
Four Hezbollah members have been indicted by the STL, which is probing the 2005 assassination of former Prime Minister Rafik Hariri. However, the Shiite group strongly denied the charges and refusesd to cooperate with the court.