Top Syrian cleric threatens West with suicide bombing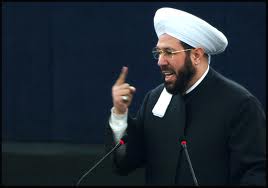 Damascus/Beirut – Syria's top Sunni Muslim cleric on Monday threatened to order suicide bombings in the United States and Europe if his country was attacked by them, while ongoing violence in the country claimed 32 lives in 24 hours.
'I am telling this to Europe and the United States: We will set up suicide attackers who now live on your land in case you bomb Syria or Lebanon,' Mufti Ahmed Badereddine Hassoun said in a video posted on Al Arabiya television's website.
Hassoun was addressing a delegation of Lebanese women who had come to offer their condolences for his son's death.
Hassoun's son was killed last week by unknown gunmen in front of a university in the northern city of Aleppo.
Meanwhile, at least 14 civilians and 17 army and security force personnel were killed in violence across Syria overnight, as security forces continued their crackdown on pro-democracy protesters, activists and state-run media reported Monday.
It is difficult to confirm reports since foreign media are not allowed into Syria.
The civilians were killed in the provinces of Homs and Idlib when security forces fired at overnight protests in both regions, activists based in Lebanon told dpa.
'It was like a war scene in Homs where blasts and sound bombs were heard all over town, with heavy machineguns also being fired,' said the Local Coordination Committees (LCC), which organizes protests on the ground.
Activists also said that Syrian troops had fired on a makeshift camp for Syrian refugees on the Turkish border late Sunday, wounding a man who later died in a hospital in Turkey.
Meanwhie Syrian state-run television reported that 17 security personnel had been killed and a number of others wounded by what it described as 'armed gangs' in the provinces of Hama, Homs, and Idlib.
Damascus has blamed 'armed groups' for the unrest in the country since anti-government rallies calling for the ouster of President Bashar al-Assad began in mid-March.
But EU foreign ministers meeting in Luxembourg on Monday continued to put pressure on the Syrian regime by signalling that more international sanctions were on the way and welcoming the newly established Syrian National Council, an opposition umbrella group.
The EU welcomed 'the efforts of the political opposition to establish a united platform,' the ministers said.
Foreign Minister Walid al-Moallem had on Sunday threatened that his country would take 'tough measures' against any country that recognized the council while al-Assad vowed to end 'armed manifestations' in the country.
Meanwhile, a number of injured soldiers and law-enforcement personnel were shown on state Syrian television Monday recounting how they were fired upon by 'armed terrorist groups' in the Jibreen area in Hama governorate.
'We were in pursuit of armed terrorist group members in the Jibreen area when we were exposed to heavy fire that caused a lot of injuries in our ranks,' Major Hassan Ali Suleiman said from his hospital bed.
The United Nations estimates that more than 2,900 people have been killed during the uprising, among them 187 children.