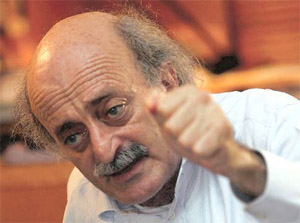 Informed Sources told Okaz newspaper in a report published on Sunday that relationship between Progressive Socialist Party ( PSP) leader MP Walid Jumblatt and Hezbollah has become very tense and could explode at any moment, especially after one of the PSP ministers criticized the appointment of former minister Adnan as-Sayyed Hussein as the new head of the Lebanese university.
Hezbollah the sources stressed considers Hussein its own man at the university
The sources added that "Hezbollah is making an effort to avoid blowing up the relationship with the Jumblatt because of the cabinet , but Jumblatt is not making any effort in this regard, but continues with his provocation of the Shiite party as if he is looking for a confrontation.
Jumblatt's defection from March 14 alliance gave the Hezbollah led March 8 alliance the majority in the parliament and allowed it to form its own cabinet .
Public Works and Transportation Minister Ghazi Aridi, explained on Thursday why the Progressive Socialist Party ministers in the cabinet, had reservations about appointment former minister Adnan as-Sayyed Hussein as the new president of the Lebanese University.
"There were five candidates for the Lebanese University presidency, with Sayyed Hussein and Dr. Zeinab Saad having served the same number of years. The difference between the two is that Dr. Saad is more qualified since she speaks three languages while Hussein speaks only Arabic," National News Agency NNA quoted Aridi as saying.
Hussein was reportedly promised the position last January when he helped Hezbollah in bringing down the government of former PM Saad Hariri .
Hussein , a Shiite who represented Lebanese president Michel Suleiman in the outgoing government had the decisive vote in the collapse of the cabinet. Hezbollah and its allies had 10 votes in the outgoing cabinet and needed 11 to topple the government.
Hezbollah brought down Hariri's government on January 12 over the Special Tribunal for Lebanon's ( STL) indictment which was widely expected to implicate Hezbollah members in the assassination of former PM Rafik Hariri in 2005.
Four Hezbollah members have been indicted by the UN-backed STL, however, the Shiite group denied the charges and refused to cooperate with the court.
Najib Mikati was then appointed as new PM following his nomination by the Hezbollah led March 8 parties