Syrian unrest choking tourism to Lebanon, Abboud
The number of Arab tourists who drive into Lebanon is down by 90 percent this year after months of political unrest in Syria, the only neighbouring country with an open border into Lebanon, its tourism minister said on Thursday.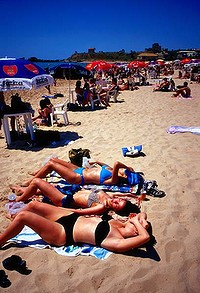 Fadi Abboud said: "600,000 Arab tourists normally drive through Syria (into Lebanon) every year … 90 percent of all overland arrivals have been lost in 2011."
Overland arrivals through Syrian border crossings account for about a quarter of tourist arrivals to Lebanon, which has long promoted itself as a diverse country boasting Roman ruins, limestone caves, ski resorts, beaches and a vibrant night life.
Tourists from the Gulf, Jordan and Iraq usually drive through Syria to get to Lebanon, but the escalation of violence in Syria since anti-government demonstrations began in March has slowed the flow.
Some 2,900 civilians have been killed in Syria in a military crackdown against protesters aiming to overthrow President Bashar al-Assad, according to the U.N. human rights office.
The U.N. World Tourism Organisation (UNWTO) says tourism revenues in Lebanon were down 20 percent in the first six months of 2011. Tourism accounts for 22 percent of GDP.
Abboud added Western tourists had shied away from the Middle East due to the "Arab spring" unrest.
But he said he believed Lebanon's tourism sector could weather the storm.
"The main percentage of tourists coming to Lebanon are the jet setters and playboys of the Middle East … who come for the night life and cuisine," he said. "They come into Lebanon through the airport and so they are not affected."