Syrian envoy questions Jumblatt's "lecturing"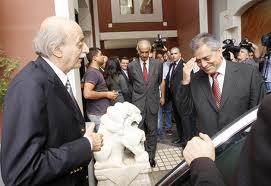 Syrian Ambassador to Lebanon Ali Abdel Karim Ali told NBN television on Tuesday that "he tries to find an explanation to some of Progressive Socialist Party leader MP Walid Jumblatt's recent statements."
"Syria is best suited to diagnose its own problems … some comments sound like lecturing, but maybe it is others who need lecturing" Ali said in reference to Jumblatt.
Jumblatt said in an interview published in As-Safir newspaper last Friday that he maintains his position that the Syrian regime should implement "quick reforms."
The Syrian envoy was asked about the incursion of the two Syrian army tanks into the Lebanese village of Arsal earlier on Tuesday, he claimed that "he did not hear about this incident,"but then added :"There is full cooperation with the Lebanese army regarding chasing criminals."
Two Syrian army tanks crossed the border into eastern Lebanon on Tuesday, reportedly as part of a search for activists or army defectors who have fled the countryand the east and shelled the battery factory which is located about 4 kilometers from the Lebanese border with Syria," Lebanon's LBC satellite channel reported.
March 14 outraged
The Lenbanese opposition was outraged by the Syrian incursion
March 14 MP Mouin Merhebi said on Wednesday that President Michel Suleiman and the Lebanese army did not intervene when the Syrian army "entered Lebanese territories and forced an entry into citizens' houses."
"This is utterly shameful and unbearable," Merhebi told Free Lebanon Radio.
The MP also said that "he thinks all March 14 [parties] will support the Syrian National Council [SNC], because it represents around 80 percent of the Syrian people."
"We respect the Syrian people's choice," he added.
Members of various Syrian opposition movements meeting in Istanbul said in a statement on Sunday they had formed a common front uniting all groups that oppose the regime of President Bashar al-Assad.
Assad's troops have cracked down on protests against almost five decades of Baath Party rule which broke out mid-March, killing over 2,700 people, according to the UN Human Rights Council.