Hussein appointed as president of the Lebanese University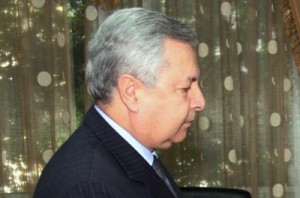 The cabinet appointed on Wednesday former State Minister Adnan as-Sayyed Hussein as the new president of the Lebanese University, Future News reported.
The cabinet session is being held at the Baabda Presidential Palace, the TV channel reported
Hussein was reportedly promised the position last January when he helped Hezbollah in bringing down the government of former PM Saad Hariri .
Hussein , a Shiite who represented Lebanese president Michel Suleiman in the outgoing government had the decisive vote in the collapse of the cabinet. Hezbollah and its allies had 10 votes in the outgoing cabinet and needed 11 to topple the government.
Hezbollah brought down Hariri's government on January 12 over the Special Tribunal for Lebanon's ( STL) indictment which was widely expected to implicate Hezbollah members in the assassination of former PM Rafik Hariri in 2005.
Four Hezbollah members have been indicted by the UN-backed STL, however, the Shiite group denied the charges and refused to cooperate with the court.