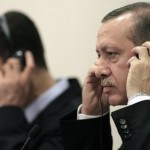 Syria is facing mounting pressure for political reform as Turkey signaled it might freeze some $500 million in assets belonging to President Bashar al-Assad.
Turkey, which has imposed an air, land and sea blockade on its neighbor, would freeze all of Assad's assets, including his bank accounts, if the United Nations enacts an embargo on Syria, Milliyet reported. The Turkish Finance Ministry's criminal investigation unit is following Syrian banking activities in the country, the Istanbul-based newspaper reported.
White House National Security Advisor Tom Donilon issued a statement yesterday thanking Saudi Arabia's King Abdullah, along with the Gulf Cooperation Council, for opposing the violence in Syria. More than 3,600 Syrian civilians have been killed since political protests began in March, according to figures compiled by Ammar Qurabi of the National Organization for Human Rights in Syria.
The country's death toll rose by 14 yesterday, Al Jazeera reported, citing local activists. According to the Al Jazeera news agency, Syrian police shot dead 7 protesters across the country yesterday after killing 32 on Friday.
The Syrian army took control of the town of Rastan and detained 3,000 people yesterday as soldiers who had defected to join the activists withdrew from the town to Hama, Al Arabiya said. The former soldiers left in an attempt to spare civilians from random shelling by government troops, Walid Abdel Qader, a Syrian opposition figure, told the news service.
In Libya, the North Atlantic Treaty Organization's military mission is nearing completion and its involvement there could begin winding down as soon as this coming week, the Associated Press reported. Army General Carter Ham, the top U.S. commander for Africa, told the AP that U.S. military chiefs will likely provide NATO officials in Brussels with their assessments on Libya late in the week.
Muammar Qaddafi, the deposed Libyan leader, remains at large. The National Transitional Council, Libya's interim government, plans to seek a two-day truce to allow civilians to depart from Gaddafi's hometown of Sirte, Reuters reported, citing the council's chairman. Civilians have been leaving Sirte as interim government forces and NATO warplanes shell Gaddafi loyalists.