Patriarch Rai heads to the US on a pastoral tour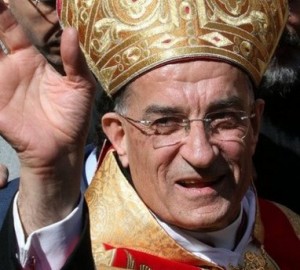 Lebanon's Christian Maronite Patriarch Bechara Boutros al-Rai headed to the United States on Saturday morning on a pastoral tour .
When he was asked about possibly of meeting with US President Barack Obama he said
"I am not a politician or a man of state…I am a patriarch who makes pastoral visits to parishes abroad ," Rai was quoted as saying by National News Agency.
Asked if he will travel to Syria later on, the patriarch said that he should "visit all the Maronites in the Arab world."
"It is my duty to visit all of our parishes and people in Jordan, the Holy Land, Syria and the Arab World."
The patriarch left Beirut on a private jet. According to media outlets, he is expected to stay in the US for three weeks.
Former Patriarch Nasrallah Boutros Sfeir always stopped in Washington DC to meet US key officials including US presidents whenever he visited the US , but Rai's recent stance may be the reason behind his decision not to meet US officials according to local analysts.
Rai came under fire earlier in September from the opposition March 14 parties but won praise from March 8 politicians for indirectly defending Hezbollah's arms and linking the party's arsenal to the termination of Israeli occupation of Lebanese territory and the return of Palestinian refugees to their homeland . Even MP Walid Jumblatt who defected from March 14 alliance was very critical of Rai's statements.
Rai emphasized during a trip to Paris that "only when the international community exerts pressure on Israel to vacate the occupied Lebanese territory ( the Shebaa Farms, Kfar Shouba hills and the Lebanese part of the disputed border village of Ghajar ) and Israel allows Palestinians in Lebanon to return to their homes, can Hezbollah be asked to hand over its arms because they will no longer be needed."
Rai added that Syrian President Bashar al-Assad is "open-minded" and should be given more chances to implement the reforms he already announced.
The patriarch claimed after returning to Lebanon that the remarks he made while in Paris "were taken out of context and have nothing to do" with his personal opinion.
Rai met on Wednesday with a delegation of Syrian religious figures headed by Damascus Mufti Adnan Afyouni.
Rai reiterated his controversial position on Syria and Hezbollah's arms during a meeting Friday with President Michel Suleiman who is planning to renew his call for rival leaders to engage in national dialogue to end their deep political divisions, sources said.
Suleiman reportedly disclosed to Rai that he intends to revive the national dialogue conference with a different approach and intends to change its agenda, which was previously confined to the issue of a defense strategy, by adding issues of mutual concern for the political parties. Suleiman is expected to face problems with the opposition if he adds any item other than the Hezbollah arms to the agenda of the the National dialogue according to observers.
Assad's regime has cracked down on a string of unprecedented protests across his country, killing more than 2,700 civilian protesters since the uprising began in March, according to the United Nations.