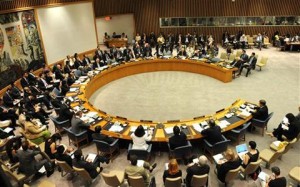 The UN Security Council is to begin consultations on an application by Palestinian leader Mahmoud Abbas for full state membership of the UN.
The request needs the support of nine out the 15 members of the council, but the US has said it will veto the bid.
Diplomats say it could take weeks before the issue comes to vote.
Mr Abbas last week urged the council in New York to back a state with pre-1967 borders. Israel reiterated its call for peace talks without preconditions.
Direct talks between Israel and the Palestinians stalled in September 2010.
The Palestinians walked out in protest at the building of Jewish settlements in the occupied West Bank.
In his speech at the UN, Mr Netanyahu said that the core of the conflict was not settlements, but the refusal of the Palestinians to recognise Israel as a Jewish state.
Quartet call
Mr Abbas received a hero's welcome upon his return to the West Bank from New York on Sunday.
He reiterated before a cheering crowd his refusal to talk to Israel without a freeze of Jewish settlements.
"We stressed to everyone that we want to achieve our rights through peaceful ways, through negotiations but not just any negotiations," he told thousands of people gathered at his Ramallah headquarters.
"We will only agree with international law as a basis for negotiations, and a complete halt to settlement activity."
Meanwhile, Israeli Prime Minister Benjamin Netanyahu again called the Palestinians to agree to talks without preconditions.
"You're never going to end negotiations unless you begin it," he told the BBC.
"If we keep negotiating about the negotiations – which is what we've been doing for two-and-a-half years – we're not going to get very far."
Last week, the Quartet of mediators – the US, the UN, the European Union and Russia – called on Israel and the Palestinians to resume peace talks within one month and aim for a deal by the end of 2012.
Analysis by : Barbara Plett BBC UN correspondent
The threat of confrontation has triggered a diplomatic scramble to neutralise the effects of a possible US veto.
The Security Council has to decide whether to refer the Palestinian request to a committee or postpone consideration of it, given the threat of an American veto.
Both would buy time for efforts by international powers to steer the diplomatic focus away from the membership application and onto peace talks.
But the Palestinians are not happy with proposals presented so far, and may use allies on the council to push their agenda.
It is not clear how much support they have.
Analysts say the council is moving into uncharted territory: it has received a membership bid from an entity that is not a state, which has both massive international support, and opposition from the world's most powerful nation.