At least 18 killed by Syrian security forces on Saturday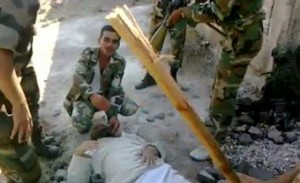 Syrian security forces have killed at least 18 civilians on Saturday, nearly all in the central region of Homs, the Syrian Revolution General Commission, a coalition of dozens opposition groups-reported.
Observatory for Human Rights earlier reported that 12 civilians were killed in Qusseir during search operations for people wanted by the army and security forces in this locality.
Security forces shot and killed another person in the nearby city of Hama, it added, according to AFP.
In addition, the bodies of two people who had gone missing in recent days were handed over to their families by the Syrian authorities, while another died of wounds suffered on Friday.
Nine people were killed by security forces during anti-regime protests in the Homs area on Friday, the Britain-based Observatory reported.
The office of the U.N. High Commissioner for Human Rights in Geneva has said the death toll from the crackdown on dissent since March 15 has risen to more than 2,700.
Meanwhile, France's ambassador said he was attacked on Saturday by a crowd throwing stones and eggs at him after he met with Greek Orthodox Patriarch Ignace IV in the Syrian capital.
"The Shabiha (a pro-regime militia), some of whom had metal bars in their hands, and women threw eggs and stones in my direction and in the direction of my team, and looked threateningly at us while we were returning to our two cars," Eric Chevallier told AFP.
Saturday's crackdown came as new sanctions against Syria come into effect and as Turkey said it had intercepted an arms shipment at sea destined for the protest-wracked country after another day of deadly demonstrations.
Both the European Union and Switzerland have targeted Syria's oil sector in new sanctions that bite from Saturday, with the EU banning new investments there and also prohibiting the delivery of bank notes to Syria's central bank.
The EU has also added two individuals and six companies to a list of people and entities facing an assets freeze and travel ban.
The new measures are the seventh set of EU sanctions imposed to punish the regime of President Bashar al-Assad for its relentless crackdown on dissent that erupted in mid March.
Photo: The torture by Syrian government forces of a "martyr" named Louai al-Amer in al-Hula in the Syrian flashpoint province of Homs, according to opposition activists. (Photo by AFP)