Reports: Shots fired near open-air papal Mass in Germany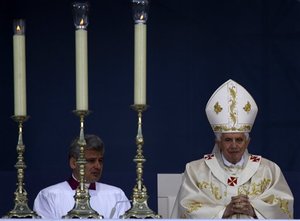 Facing discontent within his German flock, Pope Benedict XVI made a gesture by meeting with victims of clerical sex abuse as he called for Roman Catholics in the former communist East to rediscover their faith.
An estimated 30,000 people gathered Saturday before dawn in the cobblestone square beneath the soaring spires of Erfurt's medieval cathedral for an open-air Mass that took place under sunny skies and went ahead as scheduled despite reports in local media that a gunman had opened fire near a security checkpoint in the city center.
Erfurt police spokesman Dirk Sauter said police were investigating a report that shots had been fired before the Mass, but insisted that it was "several kilometers" from the Cathedral Square and was not linked to the papal visit.
In his sermon, the pope acknowledged that the collapse of communism in the former East Germany more than 20 years ago has allowed the church to function freely, but questioned whether that change has brought any increase in faith.
"Are not the deep roots of faith and Christian life to be sought in something very different from social freedom?" the pope said. "It was actually amid the hardships of pressure from without that many committed Catholics remained faithful to Christ and to the church."
Benedict's four-day state visit comes as Germany's church has been losing thousands of followers amid revelations that hundreds of children and young people were abused by clergy and church employees.
On Friday night, he took a step to placate some of the anger by meeting for half an hour with two women and three men from parishes across Germany who were among the abused. The Vatican said the pope expressed "deep compassion and regret" at the suffering of those who were abused and assured them the Church is seeking "effective measures to protect children."
Thousands of German church leaders acknowledge the scandal has cost them badly needed trust among the roughly
Roughly 30 percent of Germany's 82 million people are Roman Catholic.
"I appreciate that he (the pope) is facing the problem, and that he is meeting these people," said Klaus Militzer, 68, from Erfurt who was among an expected 30,000 pilgrims streaming into the cobbled square beneath the city's main cathedral early Saturday.
"He can't undo it, that's not possible, but I think it is good that he is asking for forgiveness and sending a signal."
Benedict has been accused by victims groups and their lawyers of being part of a systematic cover-up by the church hierarchy for pedophile priests, in his earlier roles as an archbishop in Germany and later at the helm of the Vatican morals office.
Survivors groups were quick to denounce the pope's meeting with German victims as an empty gesture. They maintain the Church has not done enough to prosecute offending priests and prevent future cases of abuse.
Germany's Bishops Conference has set up a telephone hotline to counsel victims and help them to take legal steps against offending priests when possible.
Catholic leaders had warned ahead of Benedict's visit that there was no quick solution, but they hoped the pontiff could help heal wounds left by the scandal.
"I think it's certainly an important issue, but it's not the most important thing about a pope's visit," Monika Graner, a pilgrim from Wuerzburg, said of the sex abuse scandal.
Following the Mass in Erfurt, the pontiff will continue to the southwestern city of Freiburg, the final stop on this visit.
Protests have also accompanied Benedict's German tour, although numbers have been smaller than expected. Some 9,000 people turned out in Berlin to denounce the Vatican views on homosexuality, contraception and other issues.
Photo: Pope Benedict XVI, right, prays during a mass in Erfurt, Germany, Saturday, Sept. 24, 2011. Pope Benedict XVI is on a four-day official visit to his homeland Germany. (AP Photo/Frank Augstein)