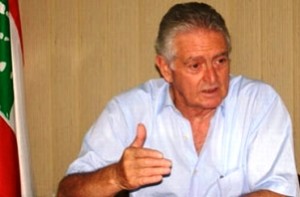 National Liberal Party leader MP Dori Chamoun told LBC television that he will boycott the meetings held at Bkirki's Maronite Patriarchate "if they are related to political affairs."
"I will not attend the meetings in Bkirki if they evolve around the drafting of a new electoral law or political matters," the MP said
He added that he supports adopting "an electoral law based on the majoritarian system and on smaller districts in each region ."
In another interview with As-Sharq al-Awsat newspaper published on Saturday, Chamoun also said that the drafting of a new electoral law "should be addressed in parliament and not in Bkirki."
Following a meeting held on Friday by the Christian Maronite leaders at the Bkirki Patriarchate, Lebanese Forces leader Samir Geagea told reporters that that "it is possible" for the country's Christians to reach consensus on a new electoral law for the 2013 parliamentary elections adding the drafting of a new law "requires a lot of research."
The participants in the meeting which was chaired by Patriarch Bechara Boutros al-Rai included Free Patriotic Movement leader MP Michel Aoun, Marada Movement leader MP Suleiman Franjieh, Geagea and Phalange party leader Amin Gemayel.
Like other March 14 leaders Chamoun is reportedly trying distance himself from the patriarch following his remarks on Hezbollah arms and Syria.
Rai came under fire earlier this month from the opposition March 14 parties but won praise from March 8 politicians for indirectly defending Hezbollah's arms and linking the party's arsenal to the termination of Israeli occupation of Lebanese territory and the return of Palestinian refugees to their homeland . Even MP Walid Jumblatt who defected from March 14 alliance was very critical of Rai's statements.
Rai emphasized during a trip to Paris that only when the international community exerts pressure on Israel to vacate the occupied Lebanese territory ( the Shebaa Farms, Kfar Shouba hills and the Lebanese part of the disputed border village of Ghajar ) and Israel allows Palestinians in Lebanon to return to their homes, can Hezbollah be asked to hand over its arms because they will no longer be needed."
Rai added that Syrian President Bashar al-Assad is "open-minded" and should be given more chances to implement the reforms he already announced.
Assad's regime has cracked down on a string of unprecedented protests across his country, killing more than 2,700 civilian protesters since the uprising began in March, according to the United Nations.