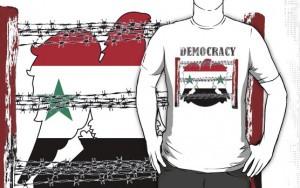 Increasingly convinced that President Bashar Assad of Syria will not be able to remain in power, the Obama administration has begun to make plans for U.S. policy in the region after he exits.
In coordination with Turkey, the United States has been exploring how to deal with the possibility of a civil war among Syria's Alawite, Druze, Christian and Sunni sects, a conflict that could quickly ignite other tensions in a volatile region.
While other countries have withdrawn their ambassadors from Damascus, Obama administration officials say they are leaving in place the U.S. ambassador, Robert Ford, despite the risks, so he can maintain contact with opposition leaders and the leaders of the country's myriad sects and religious groups.
State Department officials also have been pressing Syria's opposition leaders to unite as they work to bring down the Assad government and to build a new government.
The Obama administration is determined to avoid a repeat of the aftermath of the U.S. invasion of Iraq. Syria is sure to be discussed when President Obama meets Tuesday with Prime Minister Recep Tayyip Erdogan of Turkey on the periphery of the U.N. General Assembly meeting in New York, administration officials say. A senior administration official said the abandonment of Assad by Turkey, Saudi Arabia and European nations would increase his isolation, particularly as his military became more exhausted by the lengthening crackdown.
Aside from Iran, Syria has few allies to turn to, said Ray Takeyh, a senior fellow for Middle Eastern studies at the Council on Foreign Relations and a former Obama administration official.
"The Chinese recognize their economic development is more contingent on their relationship with us and Europe than on whether Assad or Gadhafi survives," he said, referring to the deposed Libyan leader, Moammar Gadhafi.
Obama's call last month for Assad to step down came after months of internal debate, which included lengthy discussions about whether a Syria without Assad would lead to the kind of bloody civil war that consumed Iraq after the fall of Saddam Hussein.
At the same time, the administration does not want to look as if the United States is trying to orchestrate the outcome in Syria, for fear that the image of U.S. intervention might do the Syrian opposition more harm than good. In particular, administration officials say they do not want to give the Iranian government — which has huge interests in the Syrian government and is Assad's biggest supporter — an excuse to intervene.
But one administration official pointed to the remarkable call this month by Iran's president, Mahmoud Ahmadinejad, for Assad to ease up on his crackdown as a sign that even Iran's leaders are worried about the Syrian president's prospects.