Arab League chief in Syria for talks with Assad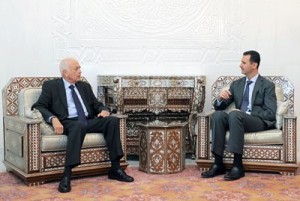 Syria's state-run news agency says President Bashar Assad and the head of the Arab League are holding talks in Damascus.
Saturday's meeting between Nabil Elaraby and Assad was expected to focus on the deadly crackdown on the six-month-old uprising in Syria. The U.N. estimates it has killed some 2,200 people since March.
Elaraby was originally expected to visit Syria on Wednesday but the visit was delayed at Syria's request.
Widespread international condemnation and sanctions have done little to stop Assad's crackdown.
The regime has all but sealed off the country to foreigners, saying the unrest is being driven by terrorists and thugs who want to destroy Syria.
Protesters have started appealing for international help to deter attacks on civilians.
AP