Mikati: Aoun is a Joke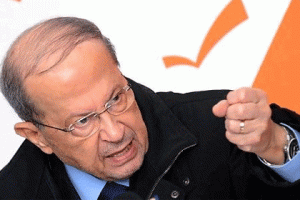 "Aoun is a joke, a laughingstock, and he is only around because of political games," Prime Minister Najib Mikati told former US Ambassador to Lebanon Jeffrey Feltman on July 30 2007, according to a cable that was recently published by WikiLeaks.
Mikati also told Feltman that Aoun will not become president, adding that "no one takes him seriously,"
Feltman reportedly said in his remarks that Mikati "feels that Aoun is completely unable to generate the kind of consensus that would be needed to win the next presidential election."
"Mikati has a very clear profile in mind for Lebanon's next president. He wants a candidate who can unify [the country] and who will be accepted by Syria and the international community, including the US," the cable added.
The Lebanese premier also said that President Michel Suleiman, then-Lebanese army commander, is "respectful, honest and sensitive to the needs of Lebanese society."
"Mikati praised Suleiman's attitude toward the Syrians, saying that he was neutral, for the most part, and did not fuel tensions after the Syrian withdrawal in 2005," the cable added.
"Mikati ended the meeting with a proposal to fund study programs for moderate Sunni religious leaders in his home district of Tripoli, but asked for [the US'] advice before proceeding."