Safadi: Lebanon govt budget to rise by 15 pct in 2012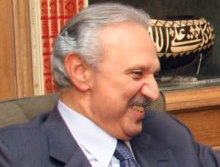 Lebanon's 2012 government budget will increase by roughly 15 percent and the deficit will not be more than $3 billion at best, the country's finance minister said on Tuesday.
"The budget will increase by 15 percent roughly. Our deficit will be not more than $3 billion at best. So we'll be borrowing," Mohammed Safadi told Reuters without giving further details.
"Our expectations, it (inflation) will not be less than 3 percent next year. But we are expecting growth of not less than 4 percent real GDP growth in 2012," he said ahead of a Wednesday meeting of Arab finance ministers in the capital of the United Arab Emirates.