Libya: Push into Bani Walid to start soon after talks failed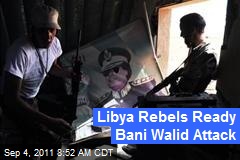 Libyan fighters who said they had tried to negotiate a peaceful transfer of power of Bani Walid, a key city still controlled by supporters of fugitive leader Muammar Al Qathafi, said that talks have reached a stalemate, therefore the final push towards entering the city is going to happen in the next 24 hours.
There have been numerous attempts to move forward with a bloodless handover of control of Bani Wlaid, but members of the National Transitional Council, have now said that by mid-day, Sunday, talks failed.
"Their time is over," Mahmoud Abdul Aziz, a political analyst and one of those on the negotiation team., therefore, he added, "The push is going to happen in the next 24 hours."
The rebels are hoping that they could capture the city withou ta bullet being fired, thus avoiding bloodhsed.
Oil Production to resume in Week's Time
Meanwhile, elsewhere in the country, Libyans are looking ahead to the post-war future. They have started negotiating with foreign governments and plans are on hand to resume the oil and gas prodiction and exports that many expect could help make Libya rich again
Interim oil minister Ali Tarhouni said oil production in the Misla and Sarir fields would start on September 12 or 13.
In Tripoli, life was returning to normal after last month's fighting and last week's Muslim holiday. Traffic was heavy as fuel supplies improved. Cafes were busy and offices opened, and Saturday evening fans of the national football team gave rise to celebrations at the news of Libya's 1-0 victory over Mozambique in Cairo that could earn them qualification to the finals of next years African Cup of Nations.
Despite the fact that due to the conflict many had been giving very little thought to sports, the victory over Mozambique, described as memorable, in the time of war, was seen as another morale-booster to the country that is trying to find its feet after six months of fighting. So, Saturday many celebrated not only new freedoms but the victory of the national soccer team, the first under the the three-coloured flag of Libya.