Gemayel : cabinet to face crisis over funding for ST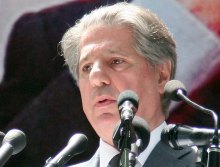 Former Lebanese president and Phalange Party leader Amin Gemayel said on Saturday that Lebanon is heading toward a crisis when it comes to the issue of funding the Special Tribunal for Lebanon (STL).
"If Prime Minister Najib Mikati commits to his statement pertaining to the STL then he will be confronting at least half of the cabinet's ministers ; and if he doesn't commit to his statement, then he will be confronting the international community," he told Future News television.
Gemayel statement comes after Mikati said in comments published on Friday that the government will commit to paying Lebanon's share of funding for the STL, which is investigating the 2005 assassination of former Prime Minister Rafik Hariri.