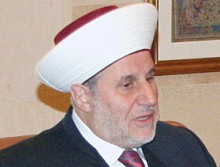 Tripoli Mufti Malek al Shaar told al Sharq Radio station on Friday:"I asked PM Nagib Mikati during a meeting about the issue of funding the Special tribunal for Lebanon (STL) , since this concerns all the Lebanese and he told me, when the time comes for funding the tribunal Lebanon cannot abrogate its responsibilities and will meet its obligation along with all other countries in the east and west".
In a related development an unnamed source said that Mikati and Justice Minister Shakib Qortbawi are responsible for Lebanon's payment of its share of funding for the Special Tribunal for Lebanon Al-Jumhuriya newspaper reported on Friday.
"The Parliament, in its last session, approved the payment of 8.9 billion LL for all 2010 expenditure, including the funding for the STL," the source added.