Fatfat: Al Manar's report is a complete fabrication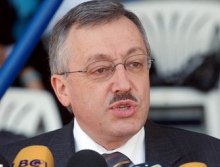 March 14 MP Ahmad Fatfat denied on Thursday a report broadcast on Hezbollah's Al-Manar television, which claimed that Future Movement officials met with Syrian opposition figures.
"The report broadcast by Al-Manar, which said that a meeting was held with the Syrian opposition this afternoon, was a complete fabrication and is in line with Hezbollah's use of media to spread lies," the MP said in a statement.
"Such a report is merely a fabrication that intends to incite strife," Fatfat said
Al-Manar reported that Future Movement Secretary General Ahmad Hariri and Future bloc MP Khaled Daher met with Syrian opposition figures in the northern Lebanese town of Akroum earlier on Thursday.
Syrian president Bashar Assad's security forces killed over 2200 pro-democracy protesters who are demanding freedom since mid-March.
Activists reported that 473 protesters were killed during the holy month of Ramadan