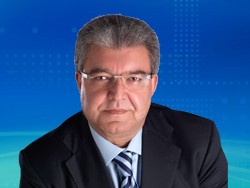 March 14 MP Nohad al-Mashnouq blasted on Sunday Hezbollah Secretary General Sayyed Hassan Nasrallah's statement about reform in Syria by saying it "does not imply seriousness and is a proof of despair."
"Hezbollah and its party need time to understand the course of events in Syria," he said
Nasrallah on Friday voiced support for the achievement of reforms by Syrian president Bashar al Assad in Syria.
"Even Iran, which is strongly allied with Damascus, considers that the Syrian regime has begun to lose its grip on the situation there and has urged reform ," the MP told As-Sharq radio station.
"The Syrian regime has one option, which is to give in to the people's choice," Mashnouq said, adding that the Syrian regime insists on dealing with the protesters as if they are members of "terrorist organizations."
Asked about the influence of Syrian events on Lebanon, Mashnouq called on the Lebanese people to act wisely, and "confirm that they cannot stand against change and against the Syrian people's right to choose their own political system."
Lebanese Forces leader Samir Geagea, a key leader of March 14 alliance also criticized Nasrallah's statement over Syria's uprising
In an interview with Al-Markaziya news agency Geagea questioned Hezbollah's behavior:
"How does Nasrallah support popular uprisings in Libya and Egypt and oppose to the Syrian popular uprising?" He asked
Syrian President Bashar al-Assad's troops have killed over 2200 protesters who have been calling for freedom and democracy and for end of nearly five decades of Baath Party rule .