Turkey lost confidence in Syria after months of bloodshed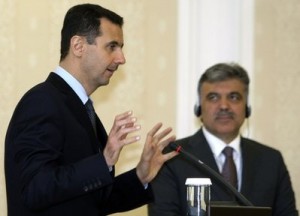 Turkish President Abdullah Gul said he's lost confidence in Syria after months of bloodshed and the Arab League announced it was sending its secretary general to Damascus to press for a halt to the violence.
"In today's world there is no place for authoritarian rule, one-party governments and closed regimes," Gul said in an interview with the state-run Anatolia news agency. Arab League foreign ministers, meeting in Cairo, called on Syria to recognize the "legitimate aspirations toward political, economic and social reforms by the Syrian people" and said they were sending envoy Nabil El Arabi to Syria. The statement gave no date for the visit.
At least six protesters were killed in overnight violence, according to Mahmoud Merhi, head of the Arab Organization for Human Rights. Syrian security forces attacked demonstrators yesterday in suburbs of the capital, Damascus, in the eastern town of Deir al-Zour, in the central city of Homs and in Nawa, according to Merhi and Ammar Qurabi of the National Organization for Human Rights in Syria.
International pressure has been mounting for an end to more than five months of violence. U.S. President Barack Obama earlier this month joined the leaders of the U.K., France, and Germany in calling for Assad to step down. The protests that began in mid-March are part of the wave of unrest across the Middle East and North Africa this year that has unseated the leaders of Egypt and Tunisia and threatened the regime of Muammar Qaddafi in Libya.
'Pay Heed'
Iranian Foreign Minister Ali Akbar Salehi yesterday called on Assad to "pay heed to the legitimate demands of his people" and warned that a potential power vacuum in Damascus "would bring about unpredictable consequences" for the region, according to the Iranian state-run news agency, ISNA. Salehi also warned against "foreign meddling" in Syria and said Assad should be supported.
"If Iran goes beyond just rhetoric and turns against Syria then it will be a big test for Syria since they are part of the same axis," Theodore Karasik, director of research at the Dubai-based Institute for Near East and Gulf Military Analysis, said by telephone today. "What's happening in Libya is a wake- up call for the Syrian regime."
Between Aug. 19 and Aug. 25 at least 96 people were killed by government forces, according to Qurabi, who compiles the names of those who have died in the uprising. At least 2,400 people have been killed in Syria since the protests started, according to Merhi and Qurabi. The UN puts the death toll at more than 2,200. More than 500 members of the security forces have died, the government has said.
Foreign Conspiracy
Assad has blamed the dissent on a foreign conspiracy, while saying protesters' demands "have merit" and that changes are needed.
In New York, Russia's ambassador to the United Nations, Vitaly Churkin, told reporters two days ago that a "very important envoy from Moscow" will travel to Damascus on Aug. 29. The Russian mission to the UN later identified the envoy as Deputy Foreign Minister Mikhail Bogdanov.
Churkin also introduced a draft resolution in the UN Security Council that "calls on the Syrian government to expedite the implementation of the announced reforms in order to effectively address the legitimate aspirations and concerns" of Syria's people.
The Russian draft resolution calls for "an immediate end to all violence" and urges "all sides to act with the utmost restraint."
The Russian move followed the introduction last week of a U.S. and European draft resolution that would freeze the foreign assets of Assad, his brother Maher, who commands a Syrian army division, and 21 other senior government officials. That resolution would also impose an arms embargo on Syria.
Russia and China boycotted two Security Council meetings to discuss the resolution, to which Churkin said his government had a "strongly negative" reaction.