Syria security forces 'storm Damascus mosque'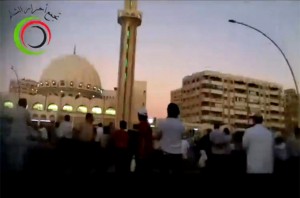 Syrian security forces have reportedly wounded several people protesting at a mosque in the capital, Damascus.
Activists said "thousands" of people took to the streets in Kafarsouseh, a western suburb, to protest against President Bashar al-Assad's rule after early morning prayers on Saturday.
A witness told Al Jazeera that security forces and regime thugs arrived at the scene, using sound bombs and tear gas in an attempt to stop the demonstration.
Protesters threw rocks and the tear gas canisters back at the security forces, the witness said, and security forces responded with gun fire, injuring eight people.
The witness said protesters were then pushed back into the mosque, which was surrounded by shabiha thugs and security forces.
Activists said security forces stormed the mosque, attacking the 80-year-old imam who was later taken to a Damascus hospital. Parts of the interiors was damaged and about 150 people arrested, according to activists.
While the mosque was besieged, crowds gathered to protest in a square adjacent to the mosque. Activists said five people were injured when security forces opened fire and used teargas to disperse the protesters.
The opposition Local Co-ordination Committees (LCC) said hundreds of people had also protested in the suburb of Moadamiya, and in the Tijara neighbourhood early on Saturday.
Activists called on protesters to converge on the Abaseen Square in central Damascus, but the LCC said only about 60 people had actually arrived at the square.
Friday deaths reported
A day earlier, security forces reportedly opened fire on thousands of anti-government protesters in eastern and southern towns, leaving several people dead.
An activist with the opposition April 17 Movement in Douma, northeast of Damascus, told Al Jazeera that security forces used live ammunition and tear gas at a protest of 6,000 to 7,000 people.
"Worshippers from about six or seven mosques came together and marched to the square of the Grand Mosque in Douma," said the activist, who gave his name as Mohammed al-Ali. "After about an hour people were heading home when secret police and shabiha arrived and opened fire."
A resident of Deir ez-Zor said security forces opened fire to disperse scores of protesters, killing two of them. He named them as 26-year-old Marii Fathi and 22-year-old Oday Bahloul.
"There was shooting in Kanama Street near Jandol cafe and a white security van took their bodies," he said, adding that another youth, Ibrahim Mohammad al-Dukhoul, was taken to hospital with serious gunshot wounds.
In Nawa, a town in the southern Hauran Plain that has seen regular protests, residents and activists said another protester was killed after forces loyal to Assad shot at demonstrators coming out of a mosque.
Human rights groups say Assad's forces have killed more than 2,200 people since the uprising against his rule erupted in mid-March, touched off by the wave of revolutions sweeping the Arab world.
The crackdown has led to broad condemnation and sanctions. Assad has ignored international calls for him to step down, insisting that "religious extremists" and "armed terrorist groups" are driving the violence, not "true reform-seekers".
Assad has exploited fears of chaos in Syria, with the regime portraying him as the only man who can guarantee peace in a country with a mix of religious groups.
The opposition, however, says the protest movement is free of sectarian overtones and is simply demanding freedom and democracy.