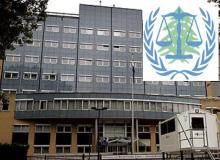 The UN-backed tribunal probing the murder of former Prime Minister Rafik Hariri said Friday the suspects could be put on trial by mid-2012, a spokesman said.
"The trial could begin at the Special Tribunal for Lebanon (STL) in mid-2012," STL Registrar said in remarks published Friday, adding that the judges would determine the exact trial date.
The spokesman said this was an estimate only and will be used for administrative planning by the court registrar, who previously said the tribunal could be ready for trial by September or October.
"A final decision on a trial date rests with the judges at the Hague-based tribunal." he said
The STL was created by a 2007 UN Security Council resolution, at Lebanon's request, to try those responsible for Hariri's assassination. He was killed in a suicide car bombing along with 22 other people including a bomber on February 14, 2005.
In June, STL issued an indictment and arrest warrants for four Hezbollah members for involvement in the assassination of Hariri.
The tribunal made the indictment public in mid-August after Lebanese authorities failed to arrest the four men within the 30-day deadline.
Hezbollah has repeatedly denied involvement, dismissing the STL as an "Israeli tool" designed to target the resistance and foment strife in Lebanon. Hezbollah leader Sayyed Hasan Nasrallah has said the accused men will not be caught "even in 300 years."
The long-awaited indictment, unsealed Aug. 18, relied heavily on telecommunications data linking the four Hezbollah suspects to the Hariri murder.
This has prompted Hezbollah to discredit the Hariri case, which has divided Lebanon since Hariri and 21 others were assassinated while their motorcade drove along Beirut's seafront.