Hariri: Hezbollah using the cabinet as a cover to escape justice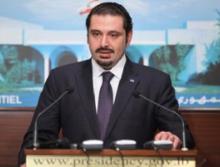 Former Lebanese prime minister and current opposition leader MP Saad Hariri blasted on Saturday Hezbollah over the Friday interview in TIME magazine, in which one of the four party' members indicted by the Special Tribunal for Lebanon (STL) in the 2005 murder of former PM Rafik Hariri boasted that the government cannot arrest him.
"The Lebanese authorities know where I live, and if they wanted to arrest me they would have done it a long time ago. Simply, they cannot." The accused Hezbollah member told Time in the interview
Hariri's press office quoted him as saying that Hezbollah wants the cabinet to act as a cover for its political, military and security existence.
"There are figures in the state and the cabinet that are providing such a cover for Hezbollah , and helping the party escape truth and justice." Hariri said in the statement
"The cabinet has two faces and two tongues. One that presents sweet speech to the international community to justify why Lebanon cannot implement its commitments toward the STL, and another that runs it and controls decisions which obstruct the tribunal."
Hariri also asked whether President Michel Suleiman, Prime Minister Najib Mikati and the cabinet are aware of the interview published in TIME.
The comments by the Hezbollah suspect to TIME magazine "are a clear announcement by Hezbollah that the government, its institutions and judicial and security bodies" are only tools to protect Hezbollah, the former PM added.
The suspect told Time in the interview : " Lebanon will not execute any of its ( STL's) resolutions", adding : "I will continue living my ordinary life without giving any attention to the Tribunal and any of its resolutions."
"History will not be merciful for those involved in the killing of former PM Rafik Hariri, and will definitely curse all those who participated in selling martyrs' blood for power."
Four Hezbollah members have already been indicted in the 2005 assassination of Hariri by the UN-backed STL. However, the Shiite group strongly denied the charges and refused to cooperate with the court.