Nasrallah's statement aimed at 'provoking Sunnis', says MP Hout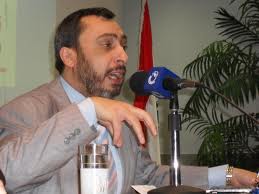 MP Imad al-Hout who represents Al-Jamaa al-Islamiya in the parliament said on Saturday that Hezbollah Secretary General Sayyed Hassan Nasrallah's recent statements in which he transferred the accusation of the four Hezbollah members to the entire Shiite sect, are aimed at provoking the Sunni sect .
It is Hezbollah's duty to "legally" defend those accused in the murder of former PM Rafik Hariri , Hout told MTV, adding that individuals and not Hezbollah were indicted by the Special Tribunal for Lebanon (STL).
The Hezbollah leader on Wednesday dismissed the STL's publicized indictment and reiterated that the international court is a US-Israeli plan to incite sectarian strife in the country.
STL indicted four members of the Iranian and Syrian-backed Hezbollah group in connection with the 2005 assassination of Hariri and 21 others, but Nasrallah ruled out their arrest.
Commenting on the interview of one of the suspects indicted by the STL, which was published Friday in TIME magazine, Hout said "if what was published in TIME is proven right, then the cabinet's credibility is questionable ."
According to TIME interview , one of the four suspects accused of participating in the Hariri murder said that the Lebanese authorities know where he lives, adding that if they wanted to arrest him, "they would have done it a long time ago but they can't."