Iran will fund a multi-million- dollar army base on Syria's coast to funnel military equipment to the beleaguered regime of President Bashar Assad, Britain's Daily Telegraph reported on Friday.
The report comes amid growing diplomatic pressure on Damascus, violent suppressing a five-month popular uprising, from neighboring Turkey as well as from the United States.
Quoting Western intelligence reports, the Daily Telegraph said the deal to build a base near Latakia was struck in June between Muhammad Nasif Kheirbek – Syria's deputy vice president for security affairs and a close Assad ally – and Ghasem Suleimani, commander of the elite Quds Force of Iran's Revolutionary Guard.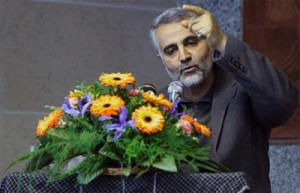 Teams of Revolutionary Guard officers are to be stationed at Latakia on a permanent basis, where they will coordinate the arms shipments with officials from Syria's Mukhabarat
Western diplomats have accused Tehran of sending riot-control and intelligence-gathering equipment, as well as fuel, to help Assad quash the unrest.
Syria is the only Arab regime closely allied with the Islamic Republic.
Syrian gunboats firing heavy machine guns pounded impoverished districts of Latakia on Sunday, killing at least 22 people in a renewed assault on the Mediterranean coastal city, activists said.
As the gunships blasted waterfront districts, ground troops backed by tanks and security agents stormed several neighborhoods.
The city has a potentially explosive sectarian mix. Sunnis, which are a majority in Syria, live in Latakia's urban core, while Mr. Assad's minority Alawite sect, an offshoot of Shiite Islam, populates villages on the city's outskirts, along with small minorities of Christians, ethnic Turks and other groups.
The crackdown, which has targeted predominantly Sunni areas of the city of more than 600,000, raised concerns of sectarian bloodshed in a country that already has seen an alarming rise in sectarian tensions since the start of the uprising.
Agencies