Crack within Lebanon's new majority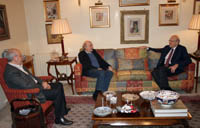 Al Diyar newspaper reported that National Front Struggle parliamentary bloc leader MP Walid Jumblatt's relationship with Prime Minister Nagib Mikati is on the rocks because Mikati proposed the electoral draft bill that calls for proportional representation without consulting him.
The rejection of MP Michel Aoun's energy draft bill in the parliament by Jumblatt and his parliamentary bloc has also damaged the relationship between the two allies in the new majority .
Jumblatt said in remarks published on Thursday that his bloc's position on the electricity draft bill during Wednesday's parliament session "is technical," and has nothing to do with taking sides but Aoun and his bloc members are not convinced and accuse Jumblatt of stabbing them in the back because they have supported him on other issues in the past and expected him to return the favor
The electricity project is "a very sensitive issue" that must be thoroughly discussed in the cabinet because it addresses spending a large sum of money, Jumblatt told As-Safir newspaper last Thursday.
The draft bill allows Energy and Water Minister Jebran Bassil who is Aoun's son-in-law , to receive $1.2 billion to implement a project for producing 700 Megawatts of electricity.