Akkar MPs urge Bassil to quit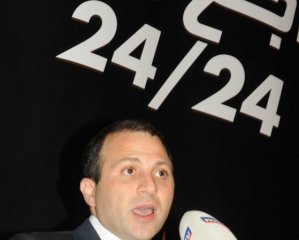 Akkar MPs Mouin al-Merhebi, Khaled Zahraman, Nidal Tohme and a representative for MP Khaled al-Daher held a meeting last night to discuss the electricity situation in Akkar, National News Agency reported.
MP Merhebi said in a statement that the participants called on Energy Minister Gebran Bassil to resignbecause of his failure to resolve the electricity problems that Akkar suffers from.
The participants also called on all officials who are responsible for the electricity crisis to quit.
Photo: Energy Minister Gebran Bassil promised  24 /24   electricity when he was first appointed as energy minister, but Lebanon continues to suffer daily blackouts