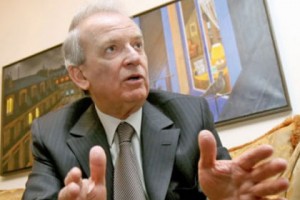 MP Marwan Hamadeh said in an interview with As-Sharq al-Awsat newspaper published on Saturday that "the abilities of the Special Tribunal for Lebanon (STL) far exceeds the expectations of the perpetrators of crimes."
"I have been waiting for more than seven years to know at least one small detail about the 2004 assassination attempt against me, and I guess it is about time now." Hamadeh said
Hamadeh added that he was notified that STL will soon issue an indictment for his case and that of former Defense Minister Elias al-Murr.
The former minister also voiced his regret over the information the STL delegation relayed to him on Thursday.
"Unfortunately, we were all targeted in an operation against the Lebanese entity and the freedom of decision , … and this was an organized criminal operation aiming to eliminate Lebanese national figures," he added.
Hamadeh miraculously survived an assassination attempt in 2004 and Murr was targeted in a July 2005 bombing. An STL delegation met on Thursday with Hamadeh, Murr, journalist May Chidiac and relatives of slain former Lebanese Communist Party leader George Hawi.
The UN-backed STL , which was set up in 2007, is tasked with identifying those behind Hariri's assassination as well as a string of bombings between 2004 and 2008 that killed or wounded several anti-Syrian politicians or journalists