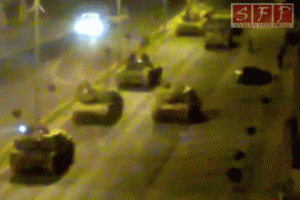 Syrian forces targeting areas that are in open revolt against the government launched a major assault on an agricultural hub near the Iraqi border Sunday, even as neighbors in the Middle East unleashed withering criticism of the crackdown.
Saudi Arabia joined other Arab countries in condemning the violence. In a statement read on television, King Abdullah said that the bloodshed was unacceptable and that his country was withdrawing its ambassador to Damascus.
Saudi Arabia followed the Arab League and the Gulf Cooperation Council, which represents oil-rich monarchies on the Arabian Peninsula. Both groups condemned the violence in Syria for the first time over the weekend.
Witnesses reached by telephone in Dair Alzour, a largely tribal area with strong trade and familial ties to Iraq, described scenes of violence similar to past clashes in the five-month confrontation between President Bashar Assad's security forces and a protest movement inspired by uprisings throughout the Arab world.
They told of tanks firing shells into residential neighborhoods, panicked residents scurrying for cover and a near-constant barrage of gunfire. It was unclear whether Assad's gunmen were firing at residents or mostly into the air.
According to accounts compiled by the activist network Local Coordination Committees of Syria, at least 11 people were killed in the city of 500,000, with an additional 18 killed elsewhere in the country — including at least 12 in the western town of Houla. But an activist reached in Dair Alzour said the number of dead in the city was 24 and rising.
"Hundreds of tanks and army personnel are moving into several neighborhoods," said a 52-year-old civil servant reached in the city who asked that his name not be disclosed. "Entire areas are closed down. We can hear gunfire and heavy artillery. No one is on the streets. They have put checkpoints in place all over."
Dair Alzour is a heavily Sunni Muslim tribal area. By launching an offensive there, Assad, a member of Syria's minority Alawite Muslim community, risks drawing the ire of tribes that often live by ancient codes of retribution and are far better armed than most Syrians.
"The tribes are armed, but they are reluctant to use weapons against the army," said one activist in the city. "Coming into Dair Alzour in such a fashion only makes one realize that the army wants to incite the tribes against them and start a civil war."
Authorities sealed off the city's entrances, as they did during an assault that left as many as 200 dead in the city of Hama a week ago.
Assad, whose loyalists claim they are fighting armed extremists, risks further angering the international community by launching the assault. The United Nations Security Council last week condemned Assad's crackdown on peaceful protesters, vowing to revisit the matter in a week.
"Syria should think wisely before it's too late and issue and enact reforms that are not merely promises, but actual reforms," Saudi King Abdullah said. "Either it chooses wisdom on its own or it will be pulled down into the depths of turmoil and loss."
Arab League Secretary-General Nabil Elaraby said in a statement, "There is still an opportunity for President Bashar Assad to respond to the will of the Syrian people and their legitimate demands of freedom, change and political reform."
The unrest is even raising alarm bells in Iran, Syria's main strategic ally.
On Sunday a writer for the conservative Iranian daily Jahan, an outlet said to be close to the Ministry of Intelligence, condemned Iranian authorities for not speaking out about events in Syria.
A day earlier, an Iranian opposition website linked to the movement led by reformers Mir-Hossein Mousavi and Mehdi Karroubi issued a statement calling "on the brutal and autocratic establishment in Damascus to cease the slaughter of its citizens, to honor their democratic and humane demands, and to stand accountable."