Patriarch Rai praises the "roots of faith" in the Chouf region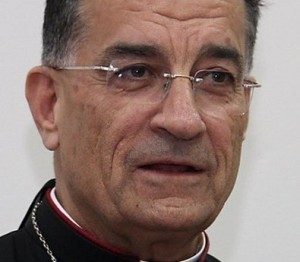 Maronite Patriarch Beshara Rai stressed on Monday during his visit to the Chouf  region of Mt Lebanon  the need for coexistence between Christians, Muslims and Druze, and urged Christians to hold onto their land. Rai's visit coincided with the commemoration of the August 7, 2001 events following the historical Mountain reconciliation.
"You Christians must hold onto your land, your history and must not sell your land no matter what the circumstances," Rai said  during a sermon at St. Charbel church in Jiyye, in the Chouf coastal area of Iqlim al-Kharroub.
Rai praised the "roots of faith" in the Chouf region, which had witnessed several wars and significant displacement of Christians at the peak of Lebanon's 1975-1990 Civil War.
Rai kicked off the first leg of a historic tour in Sidon Saturday, 275 years after a head of the Maronite Church last visited the southern coastal city.
Rai traveled Monday to the Chouf region where he expressed his hopes that a national dialogue develops  into a national conference, laying down a "new social contract between the Lebanese stemming from the National Pact."
Welcoming him at St. Charbel in Jiyeh were Minister of the Displaced Alaaeddine Terro, MP Mohammad Hajjar and representatives of Saad Hariri's Future Movement, Walid Jumblatt's Progressive Socialist Party, Jamaa Islamiya, the Lebanese Forces of Samir Geagea , MP Michel Aoun's Free Patriotic Movement, and Amal Movement