Syria dismisses criticism from Turkey and Gulf states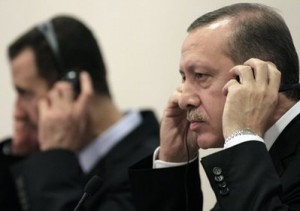 Syria on Sunday dismissed Turkish and Gulf Arab criticism of its crackdown on a five-month uprising against President Bashar al-Assad, saying such rebukes ignored violence by armed groups against the state.
In sharp rebuff to Ankara, presidential adviser Bouthaina Shaaban said Turkish Foreign Minister Ahmed Davutoglu could expect tough words during a visit to Damascus on Tuesday.
Turkey's Prime Minister Tayyip Erdogan, who built close ties with Assad but has been increasingly critical of his crackdowns, has said Ankara's message "will be decisively delivered."
Shaaban, in a retort published by Syria's state news agency SANA, said: "If…Davutoglu is coming to Syria to deliver a decisive message, then he will will hear even more decisive words in relation to Turkey's position.
"Turkey still has not condemned the savage murders of civilians and military men by armed terrorist groups."
Assad sent an envoy to see Erdogan in June after the Turkish leader decried acts of "savagery" that had forced thousands of Syrians to flee to Turkey. Last week a senior Turkish minister described Assad's assault on the city of Hama as an atrocity.
Erdogan also described Syria's crisis as a domestic issue for Turkey, because of their 850 km (530 mile) shared border.
Shaaban said Syria "always welcomes dialogue with friends, but it has absolutely refused throughout its history attempts to interfere in its internal affairs."
SANA also quoted an official source responding to the six-nation Gulf Arab Cooperation Council, which broke months of silence on Saturday to express concern about "the increasing violence and excessive use of force" in Syria.
The source said the Gulf states had ignored the "killing and sabotage carried out by armed groups targeting Syria's security, sovereignty and the future of its people," and had also failed to take account of a package of reforms announced by Assad.
Syrian authorities say armed groups have killed 500 soldiers and police since the uprising erupted in March. Rights groups say security forces have killed at least 1,600 civilians in the same period.