MP Elie Aoun: Hezbollah stance on STL is not shared by the cabinet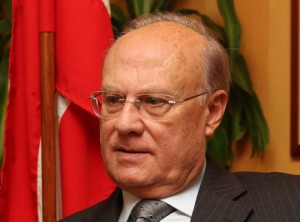 National Struggle Front bloc MP Elie Aoun told MTV on Saturday that Hezbollah's position regarding the four members indicted by the Special Tribunal for Lebanon (STL) is not shared by the the cabinet.
Commenting on Lebanon's stance at the UN security council with regards to the condemnation of the brutal crackdown of the Syrian regime against the pro-democracy protesters Aoun said "sharp stances against the Syrian regime" should not be taken so as to maintain domestic stability in Lebanon.
"Lebanon's decision is centrist. It does not place it in confrontation with the international community and at the same time does not make it stand against the Syrian regime," he said
Aoun added that Saad Hariri's previous cabinet would not have voted in favor of a statement condemning Syria.
"There is sympathy toward the Syrian people, but there is no hostility toward the Syrian regime." He said
Unlike MP Michel Aoun who is allied with Hezbollah ,MP Elie Aoun is a member of Jumblatt's parliamentary bloc which is trying to maintain a centrist position.
The UN Security Council on Wednesday condemned Syrian President Bashar al-Assad's deadly crackdown on protests and called for those responsible for violence to be held "accountable."
Lebanon did not block the adoption, but disavowed the document.
At least 2000 pro-democracy protesters have been killed according to activists since the uprising erupted in Mid March against the Syrian regime of president Bashar al Assad
The STL indicted four members of the Iranian and Syrian-backed Hezbollah group in connection to the 2005 assassination of former PM Rafik Hariri, but the party's Secretary General Sayyed Hassan Nasrallah ruled out their arrest.