UN Security council condemns Syrian attacks on civilian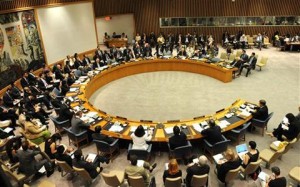 The UN Security Council stepped up pressure on Syria's rulers on Wednesday as tens of thousands again took to the streets despite a tank assault on the flashpoint protest city of Hama.
Pro-democracy protesters have vowed to protest every night of Ramadan following evening prayers despite the massive assault on Hama and the killing of some 120 people across the country on the eve of the Muslim holy month.
Syrian Human Rights League head Abdel Karim Rihawi said 50,000 people demonstrated in Deir Ezzor, an eastern city encircled by troops, and 20,000 turned out in Duma, 15 kilometres (nine miles) north of Damascus.
Rami Abdel Rahman, the head of the Syrian Observatory for Human Rights, said another 40,000 people had demonstrated in the central town of Homs.
At least four people were killed and dozens wounded when security forces opened fire on demonstrators in Damascus, near Daraa in the south and in Palmyra in central Syria, Abdel Rahman said, adding that the toll could rise.
It was not immediately possible to confirm the activists' accounts as the Syrian government has heavily restricted media access.
Abdel Rahman said 500 families had streamed out of Hama following the massive tank-backed assault that killed at least 95 people there on Sunday.
On Wednesday tanks had taken up positions across the town and shelling could still be heard in several neighborhoods, another activist told AFP, saying it sounded like "open warfare."
The Local Coordination Committees, which represent the protesters, said plumes of smoke could be seen over the city of 800,000 residents.
"People are deserting the city and are faced by live gunfire from security forces and army troops if they don't respond to orders to go back inside," the group said.
The revolt against Syrian President Bashar al-Assad, whose family has ruled the country for four decades, was inspired by popular revolts in Egypt and Tunisia that toppled long-ruling autocrats earlier this year.
But Syria's revolt has been among the deadliest in the region, with 1,629 civilians and 374 members of the security forces killed since pro-democracy protests erupted on March 15, according to the Syrian Observatory.
The fierce crackdown on Hama, where an estimated 20,000 people were killed in 1982 when Assad's father Hafez crushed an Islamist uprising, has prompted solidarity protests across Syria and international condemnation.
On Wednesday, following weeks of tense negotiations, the UN Security Council condemned the crackdown and said those responsible should be held accountable.
The council was unable to agree on a resolution, but settled on a less-binding statement condemning "the widespread violations of human rights and the use of force against civilians by the Syrian authorities."
"Those responsible for the violence should be held accountable," it said, in its first pronouncement on the Syrian crisis since the protests began.
Western powers had hoped for stronger action but were rebuffed by veto-wielding members Russia and China, who feared doing so would pave the way for another military intervention like the one in Libya.
The White House meanwhile hardened its line on Assad — saying it had no interest in seeing the Syrian president remain in power just to preserve regional "stability" — but again stopped short of asking him to step down.
"The US has nothing invested in Assad remaining in power. We do not want to see him remain in Syria for stability's sake and rather we view him as the cause for instability in Syria," spokesman Jay Carney said.
Some analysts have speculated that Washington is wary of directly calling for Assad to quit because of fear that the collapse of his regime could lead to chaos or civil war.
Syria has insisted it is fighting an insurgency, and on Wednesday it held funerals for seven members of the security services and army who were killed by "armed terrorist gangs," state media reported.
State television also aired an amateur video showing corpses being thrown from a bridge into a river, and saying the bodies were of security forces killed by protesters.
Activists challenged that account, saying the victims were pro-democracy protesters killed by the army.
The official SANA news agency said parliament would meet in an extraordinary session on Sunday to discuss "issues concerning the nation and its citizens" but did not elaborate.