Army day: Suleiman reiterates Lebanon's commitment to 1701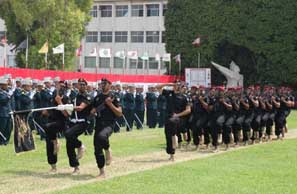 On Monday August 1 which marks Lebanon's 66th Army Day, President Michel Suleiman delivered a speech in which he said that Lebanon will "actively" work to demarcate the country's maritime borders. He also said that Lebanon will hold on to its right to restore all its occupied territories "by all possible and legitimate means."
During a ceremony in Fayadieh , Suleiman reiterated Lebanon's commitment to UN Security Council Resolution 1701 and "strongly condemned" the attack that targeted UNIFIL in Saida last week injuring several French soldiers.
The president also said that an electoral law based on proportionality may be the best "modern" law that all Lebanese people may agree on "on condition that the best framework for it is adopted."
Addressing political leaders, Suleiman said they have to work to calm political rhetoric, and voiced hope that the holy Muslim month of Ramadan will strengthen the idea of a dialogue, which does not only aim to resolve certain issues but also aims to divert future conflicts and strengthen stability.
March 14 leaders have been stressing that they only want to attend a national-dialogue session that addresses the issue of non-state weapons, in reference to Hezbollah's arms.
Former PM and current Future bloc leader MP Fouad Siniora said in an interview published on Sunday that the national dialogue should "be limited to the issue of Hezbollah's arms so that it will be purposeful and meaningful."
The president also commended the army's national achievements, saying the army, along with the official security forces, look after the citizens' security and maintain stability and civil peace.
"The Lebanese people reject strife, and you are the guarantee of unity and stability."
The Lebanese Parliament passed in August 2010 an oil exploration bill, which calls for the establishment of a treasury and a committee to oversee exploration and drilling off Lebanon. In July, Israel's cabinet approved a map of the Jewish State's proposed maritime borders with Lebanon, which is to be submitted to the UN.