Peres holds secret peace talks with Palestinians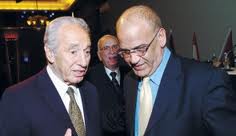 THE ISRAELI president has been holding secret meetings with Palestinian officials in an effort to break the deadlock in the Middle East peace process, ahead of the expected Palestinian bid for UN recognition of statehood in September.
The Ha'aretz newspaper reported that Shimon Peres, with the blessing of prime minister Binyamin Netanyahu, held a series of talks in Ramallah with chief Palestinian negotiator Saeb Erekat.
During a meeting this week, the two men reportedly attempted to draw up the borders of a future Palestinian state using maps of the West Bank and east Jerusalem.
Israeli officials refused to comment, but a senior Palestinian official confirmed to Ha'aretz that meetings had taken place.
Mr Peres, an avowed dove who received the Nobel Peace Prize for his part in drawing up the Oslo peace agreement, has repeatedly stressed the importance of clinching a final peace agreement with the Palestinians and ending the historic conflict.
Peace contacts have been frozen since last September when the Palestinians broke off direct talks in protest at Israeli settlement construction.
The Palestinians are expected in September to seek United Nations backing for a unilateral declaration of independence.
Both Israel and the United States have warned against such a move, arguing that only bilateral negotiations can bring about a Palestinian state in the framework of a comprehensive peace agreement.
Israel is bracing for the possibility of serious unrest in the West Bank after September and has invested heavily in purchasing non-lethal weapons to disperse crowds.
A senior military official confirmed that more than 20 trucks would be fitted with water cannons that spray a foul-smelling skunk solution at rioters. The security forces have also stocked up on Taser guns, gas grenades, rubber bullets and tear gas, as well as protective clothing.
In May and June, the army was criticised for being ill-prepared when thousands of Palestinian refugees marched on Israel's northern borders of Lebanon and Syria. Some 20 protesters were killed when Israeli troops resorted to live fire.
In a separate development, Israeli defence minister Ehud Barak has come out in favour of an Israeli apology over the interception last year of the Gaza-bound Turkish ship MS Mavi Marmara, during which nine Turkish activists were killed.
"We are not apologising for the blockade and we are not apologizing for using force," he said. "We are willing to consider apologising for problems that occurred during the Mavi Marmara operation. I don't like it, but that is the choice that must be made."
Mr Barak, speaking after talks with newly installed US counterpart Leon Panetta, said Israel must come to an understanding with Turkey to prevent publication of a UN report on the incident which he described as "problematic" from Israel's viewpoint.
Turkey withdrew its ambassador following the incident and insisted on an Israeli apology, compensation and an end to the maritime blockade on Gaza before restoring ties.
A number of Israeli ministers, including foreign minister Avigdor Lieberman, have spoken out against an apology.