Explosion in South Lebanon injures French UNIFIL soldiers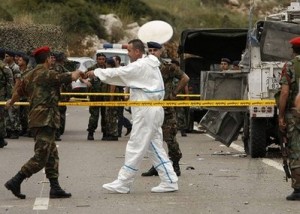 Six French soldiers serving with the United Nations Interim Force in Lebanon (UNIFIL) were wounded in a blast targeting two vehicles belonging to the French Battalion in the southern coastal city of Sidon. According to a witness, the bomb was planted on the side of the road and detonated by remote control.
"The blast took place as the car was traveling along the coastal road, near the southern entrance of the city," said a security official. Initial reports said two vehicles belonging to the French Battalion were damaged in the blast.
The soldiers sustained wounds to the face and hands and that one of them was transported to hospital. Hospital sources in Sidon said at least one of the wounded was in critical condition.
The security official said the bomb went off Tuesday at the entrance of the southern port city of Sidon as a U.N. patrol carrying French peacekeepers was driving past. Initial reports indicated that three French peacekeepers were wounded, two of them lightly, he said. The blast occurred near the port city of Sidon, 40 kilometers south of Beirut. The explosion occurred near the Siniq Bridge at Sidon's southern entrance.
On May 27, a similar blast took place also on Sidon highway, which links Beirut with southern Lebanon, wounding six Italian peacekeepers.
The United Nations peacekeeping force was first deployed to southern Lebanon in 1978 after an Israeli invasion. The force now comprises 13,000 members under the command of a Spanish general. France has some 2,000 members serving in the force.
AP, DPA