Jumblatt: Hezbollah should learn from Norway's tragedy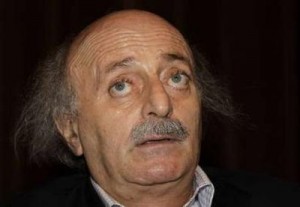 Progressive Socialist Party leader MP Walid Jumblatt said that Norway's tragedy should serve as a "lesson" to some regime leaders who do not understand the importance of political reform, and who continue to "violently confront" the rightful demands of their people.
Jumblatt stressed on Monday the importance of the equation of the army, people, and Resistance, demanding that the recent terrorist attacks in Norway serve as a lesson to some regime leaders "who don't understand the importance of reform."
He said in his weekly editorial in the PSP-affiliated al-Anbaa magazine: "The weapons must be gradually incorporated in the official armed forces, since using [non-state] arms domestically is an adventure that can never succeed, no matter what the circumstances are."
Such a defense strategy would strengthen Lebanon, and put an end to some of the Lebanese people's fears, the PSP leader added.
On the Norway attacks, the MP noted that the intolerance of some parties and individuals can lead to catastrophes, saying that the developments that preceded the attacks needed to be studied.
On Friday, a Christian extremist attacked a youth camp in Norway, killing 93 people in a shooting that has shocked the country.
"This bigotry can lead some people to act in a violent, terrorist, and crazy manner," continued Jumblatt.
He hoped that the Norway tragedy serve as a lesson to some regime leaders who don't understand the importance of reform, "and who continue on violently confronting the people's rightful demands."
Naharnet, Now Lebanon