Dialogue with Hezbollah is pointless says Geagea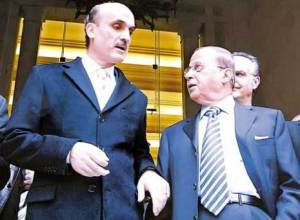 Lebanese Forces leader Samir Geagea condemned the crackdown on pro-democracy protests in Syria and said that change in the country is "inevitable."
Geagea added that he does not see the point of holding national dialogue meetings meetings if the Syrian- Iranian-backed Hezbollah group is not willing to address the use of its arms.
"If Hezbollah has nothing to offer, then what is the point of [resuming dialogue]?"
"The numbers of victims are rising every day [in Syria], and this will only deepen divisions and further incite the uprising," Geagea said in an interview with Al-Jumhuriya newspaper published on Monday.
According to the Syrian Observatory, 1,483 civilians are now confirmed dead in the government crackdown on dissent since mid-March. The violence has also claimed the lives of 365 troops and security forces.
Also, at least 12,000 people have been arrested and thousands have fled to neighboring Turkey and Lebanon, rights groups say.
Geagea added that Lebanon's defense strategy based on "the people, army and Resistance" combination will only lead to further "chaos and destruction."
He also said that the cabinet decision to again appoint a Shia to the post of General Security chief was a "scandal."
The post was originally granted to the Christian Maronites but was given to the Shia in 1998.
He voiced regret that "the Christians lost a golden opportunity to be reinstated in [public administrations]."
"Hezbollah only gave [its ally, Change and Reform bloc MP Michel] Aoun, 10 seats in cabinet and told him 'this is enough'," Geagea added, echoing the statements of some of the March 14 alliance figures that the Shia group is the "real decision maker" in government.
The Hezbollah-led March 8 coalition forced the collapse of Saad Hariri's government in January over the dispute about the UN-backed Special Tribunal for Lebanon (STL), which is probing former PM Rafik Hariri's 2005 assassination.
Last month, a new cabinet dominated by March 8 and headed by PM Najib Mikati was formed and granted parliament's vote of confidence on July 7.
Now Lebanon