Jumblatt: Syrian regime must be punished for violence against protesters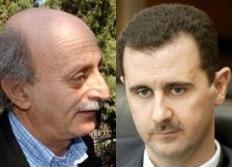 Progressive Socialist Party leader MP Walid Jumblatt said on Sunday that "Syria is a wounded country and will only be healed when the people responsible for the crimes against the Syrian people are punished." He demanded that all political prisoners be released and that hostilities against protestors be halted.
During a visit to Rashaya, Jumblatt called for "releasing all the former and current detainees in Syrian jails, ceasing fire on protesters and refusing every armed activity against institutions, establishments and the Syrian army," the National News Agency reported.
He also called for "drafting a new constitution that allows [political pluralism] in Syria and opens new horizons for the enormous potential of the Syrian people"
"The Syrian people [have proposed] these ideas and these promises were all pledged by Syrian President Bashar Assad, but appears that some members of the regime don't want to implement them," the MP noted, continuing, "Only free people can liberate the oppressed."
Anti-regime protests erupted in Syria in mid-March. According to activists, the Syrian government's crackdown on protests has left more than 1,400 civilians dead and thousands jailed.