Hezbollah MP attacks STL, says won't force resistance to surrender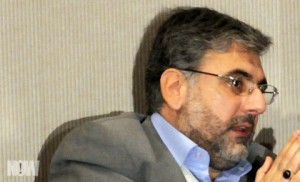 Hezbollah MP Nawwaf al-Moussawi said on Saturday that the Special Tribunal for Lebanon was formed to damage the resistance's image, National News Agency reported.
The NNA quoted the MP as saying that "the international tribunal, accusations and the slogans will not force the resistance to surrender."
"The U.S. and the West aim at igniting a sectarian strife in Lebanon to create the new Middle East," Moussawi added.
The Iranian and Syrian -backed Hezbollah brought down Hariri's government on January 12 over the Special Tribunal for Lebanon's (STL) imminent indictment which was widely expected to implicate Hezbollah members in the assassination of former PM Rafik Hariri in 2005
The Special Tribunal for Lebanon issued the indictments in the assassination of Lebanon's former PM Hariri on June 30. An STL delegation met with Lebanon's state prosecutor Said Mirza and handed him a copy of the Lebanon portion of the indictment and the arrest warrants. Two of the suspects Mustafa Badreddine and Salim Ayyash are reportedly senior members of the Iranian and Syrian-backed Hezbollah while the other two Hassan Aneissy, also known as Hassan Issa, and Assad Sabra played a supporting role in the execution of the assassination.
Lebanon has 30 days to find and arrest the suspects but Hezbollah chief Sayyed Hasan Nasrallah said on July 2 that the party would not cooperate with the tribunal.
"No Lebanese government will be able to carry out any arrests whether in 30 days, 30 years or even 300 years."