UN envoy: 1701 holding up, but Syrian upheaval worries Lebanon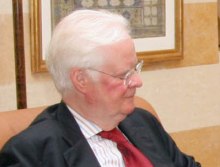 The ceasefire imposed by the UN Security Council that ended the war between Hezbollah and Israel in southern Lebanon in 2006 is holding up "very well," the U.N. Special Coordinator for Lebanon Michael Williams said Thursday.
"Remarkably, despite tensions and despite some incidents, that resolution has held very well," he said, referring to U.N. Security Council Resolution 1701
Resolution 1701 ended the hostilities in southern Lebanon, and called for the disarmament of groups there.
But Williams warned that political upheaval in Syria, hit by months of opposition protests, is weighing heavily on Lebanon where it risks sparking inter-religious clashes.
"There is a great worry in Lebanon about this," said Williams, who raised the potential for "confessional clashes in Lebanon."
"What comes after (in Syria) worries in Lebanon," he said