March 14: Lassa incident proves why Hezbollah arms should be only issue at dialogue talks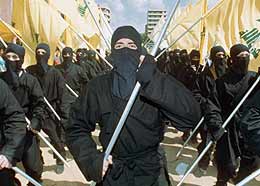 March 14 has interpreted the recent attacks against a Maronite League delegation and MTV film crew at the town of Lassa as the early signs of Hezbollah's dominance over the new majority, the An Nahar newspaper quoted Thursday informed sources as saying.
"This gives the opposition complete credibility in waging its long battle with the government over Hezbollah's possession of arms and its call that this issue be the only article on the national dialogue's agenda," the sources said
The purpose of the meeting was to "put an end to construction on disputed land and ask the Internal Security Forces to follow up on the implementation of the resolution MTV reported
An agreement was reached during the meeting under which the committee tasked with surveying lands would resume its work in two months and the two sides would halt provocative media statements, MTV reported
The survey of lands in the Jbeil District town of Lassa will also resume in two months, according to MTV.
The Bkirki meeting comes after Hezbollah gunmen last week prevented a Maronite League team from surveying land owned by the Maronite Patriarchate in the predominantly Shiite town of Lassa in the Jbeil District.
On Tuesday, a team from MTV was planning to shoot a news report in Lassa when Hezbollah gunmen broke their cameras and prevented it from carrying out its task.
Change and Reform bloc MP Simon Abi Ramia, who is a member of the follow-up committee, told New TV after the Bkirki meeting that "the issue of Lassa was blown out of proportion by the media."
"The dispute erupted in the 1940s and the property is neither Maronite nor Shiite and there is a committee that will follow up on the issue transparently and clearly and we have set a time frame for finalizing the issue of the land survey," Abi Ramia added, stressing that "things are back to normal."
Many Christians blame Abi Ramia's boss , Change and Reform bloc leader MP Michel Aoun who is closely allied with Hezbollah for what is happening in Lassa area.
The follow-up committee consists of representatives from all Maronite movements and parties. It comprises MPs Elie Kairouz, Simon Abi Ramia, Fouad al-Saad, Hadi Hbeish, Elie Aoun, Elie Marouni and Emile Rahme.
The committee is tasked with coordinating and preparing for upcoming Maronite meetings in Bkirki. The committee formed subcommittees tasked with tackling the issues of lands owned by Christians, administrative appointments and other topics.
Lassa has reportedly been transformed into a Hezbollah military base, informed sources told al-Joumhourya newspaper on Wednesday.
The sources said that the Shiite party has dug tunnels and set up shelters in the town and installed cameras that would take photos of vehicles and drivers.
Commenting on the attack against MTV , the attack against the Maronite delegation and Hezbollah's military base in Lassa Phalange party MP Sami Gemayel said on Wednesday that Lebanon needs to be "protected from its Resistance."
"Some Lebanese parties have been acting like a militia under the pretext of a resistance… but the Lebanese citizen is in need for protection from its Resistance," Gemayel said in reference to Hezbollah