Lebanon Patriarch calls for unity to build the state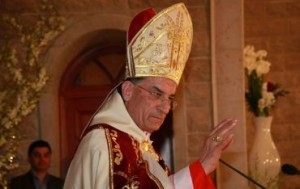 Following meeting with a Phalange Party delegation of expatriates , Lebanon's Maronite Patriarch Beshara al-Rai criticized on Thursday political disputes in Lebanon
"We oppose political quarrels taking place at Lebanon's expense because the country belongs to all Lebanese."
"It doesn't belong to one side more than the other," The Patriarch stressed.
He said the "emigration of Lebanese since 1975 has broken the back of the country"
He called on all sides to "unite in building the state and set people's interests as a priority above all else."
"It's time that we devise a new national contract that can develop the national charter … because we have reached a point where no one trusts the other," the Patriarch stressed
"We all have presented sacrifices throughout history, so we should assume our responsibilities and support the institutions," the Patriarch stated.
"Lebanon should remain above all over factional and foreign interests," al-Rai stressed
"We oppose the obstruction of parliament, the failure to elect a president, and the formation of a government all because of political differences," he said.
He also warned against dragging Lebanon into regional and international axes.
His statement comes comes after Hezbollah gunmen last week prevented a Maronite League team from surveying land owned by the Maronite Patriarchate in the predominantly Shiite town of Lassa in the Jbeil District.
On Tuesday, a team from MTV was planning to shoot a news report in Lassa when Hezbollah gunmen broke their cameras and prevented it from carrying out its task.
Lassa has reportedly been transformed into a Hezbollah military base, informed sources told al-Joumhourya newspaper on Wednesday.
The sources said that the Shiite party has dug tunnels and set up shelters in the town and installed cameras that would take photos of vehicles and drivers.
Commenting on the attack against MTV , the attack against the Maronite delegation and Hezbollah's military base in Lassa Phalange party MP Sami Gemayel said on Wednesday that Lebanon needs to be "protected from its Resistance."
"Some Lebanese parties have been acting like a militia under the pretext of a resistance… but the Lebanese citizen is in need for protection from its Resistance," Gemayel said in reference to Hezbollah