Hezbollah chief, Iranian delegation exchange praises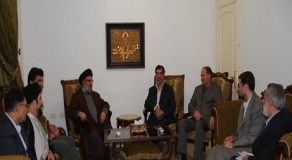 Hezbollah's Secretary-General Sayyed Hassan Nasrallah met on Thursday with the vice-chairperson of the The Islamic Consultative Assembly of Iran , Rida Bahunar, in the presence of Iranian Ambassador to Lebanon Ghadanfar Roken Abadi, Hezbollah press office said.
Nasrallah praised Iran for "everything it gave to Lebanon and the Palestinian cause since the success of Iran's Islamic revolution." according to Hezbollah press office
The Iranian delegation also praised the "accomplishments of the resistance, especially in the Lebanese-Israeli war in July 2006."
They reportedly discussed the latest developments in Lebanon and the region as well as all the fields of cooperation between Lebanon and Iran.
All the aid from Iran comes to Hezbollah directly . Neither the state nor the banks are involved
The 2006 war between Hezbollah and Israel devastated the whole country. Over 1200 Lebanese were killed mostly civilians , the Lebanese infrastructure was devastated , over 1 million became homeless , mostly Shiites from the south and over 120, 000 housing units were destroyed mostly of Shiite residents in south Lebanon and southern Beirut suburbs. The damages were estimated by UN at over $15 billion.
As soon as the 2006 war started Nasrallah appeared on TV and announced that Iran will pay for rebuilding whatever is destroyed in the war with" Halal" money.
But the Halal money never showed up. Instead of putting pressure on Iran to deliver on its promises Hezbollah and its allies occupied downtown Beirut and tried to overthrow the government for not paying quickly enough for rebuilding the south. They forced the Lebanese government which is heavily indebted to borrow more money to help rebuild what was destroyed during the 34 day war . If it wasn't for Saudi Arabian help many houses in south Lebanon would never have been rebuilt according to financial analysts.