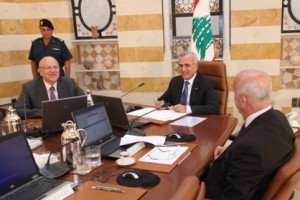 The cabinet which is dominated by the Hezbollah-led March 8 coalition approved in its Wednesday session the signing of a Memorandum of Understanding (MoU) between Lebanon and Iran's energy ministries.
"The cabinet approved the signing of an MoU between the Lebanese and Iranian energy ministries and granted a license for the Council of Development and Reconstruction to rehabilitate the Rachayya road," Information Minister Walid Daouq told reporters.
The MOU includes "a cooperation agreement in the field of energy worth $50 million," Al-Manar television reported.
He also quoted President Michel Sleiman as saying the new cabinet will be focusing on people's daily needs
"Suleiman reiterated that the people's daily needs, fighting unjustified inflation and making administrative appointments are the main issues that need to be tackled ," the information minister added.
He also said that during the session, Interior Minister Marwan Charbel commented on the assault of a Maronite delegation and a media crew in the Jbeil town of Lasa, saying that "the issue is in the process of being resolved."
Daouk added that the next cabinet session will take place on August 2.
The town of Lassa in the Jbeil district which is predominantly Shiite has been transformed into a Hezbollah military base, informed sources told al-Joumhourya newspaper on Wednesday.
On Tuesday, a team from MTV was planning to shoot a news report in Lassa ( where a Maronite delegation was assaulted and prevented from surveying a piece of land belonging to the Maronite Patriarchate last week) when Hezbollah gunmen broke their cameras and prevented the team from carrying out its task.
The director of political programs at MTV Ghayyath Yazbek said that this was not the first time that a crew from MTV was being assaulted by Hezbollah gunmen.
According to observers in signing such an agreement with Iran , Lebanon may be defying the UN sanctions against that country and could lead to penalties against Lebanon.